When I write on by
blog
the blurb for an
Inkscape tutorial
I usually present the process by showing the start image, the end image and an arrow like this:
So how I do those arrows?
with the Bézier tool draw a rough arrow
edit the nodes and make the lines slightly curved
fill with a bright color, like this light green
change the fill in a gradient
increase the width of the stroke
use the same gradient for the stroke as with the fill but with inversed atart and end points
add a slight Blur shadow
optionally, add a glossy area (white to transparent gradient)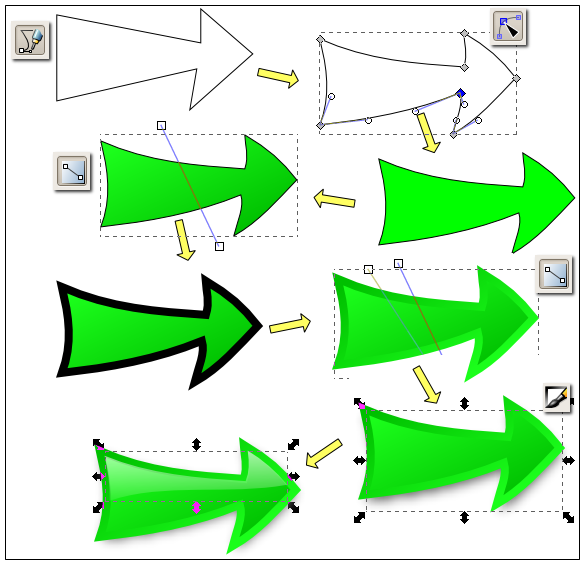 Update:
as requested by a reader, here is the
SVG source
Feedback
You can leave comments, complaints, suggestions, praises on my
blog
.
This tutorial is free, but if you find it entertaining, pretty please (this is not a requirement, only my humble wish) send an email to dioanad at server gmail.com with thanks for motivating me to publish it and expressing your unhappiness to the same person for destroying my motivation to publish more.
Be nice, polite and do not do nasty things with the address above. Thank you.
Many thanks to my
friends
at
OpenArt.ro
,
www.xdrive.ro
and
Inovatika
for
motivating
me to write this.